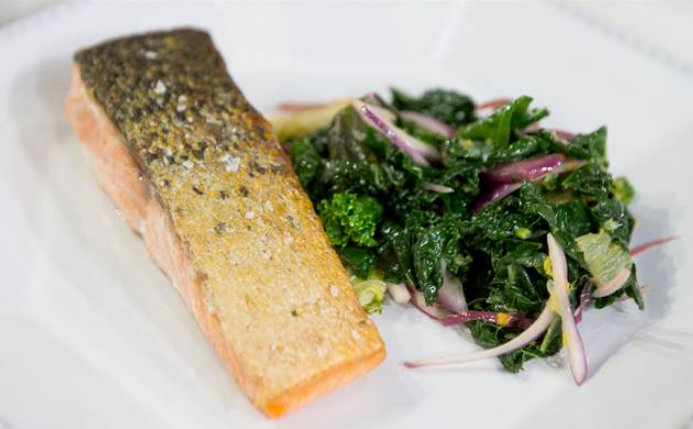 I really like to use a non-stick pan for this dish. It helps keep the salmon skin from coming off the fish and makes it extra crispy.
Ingredients
4 salmon filets, skin on
1 red onion, finely chopped
2 bunches kale, washed, stems removed and roughly chopped
3 lemons, zested, segmented and juiced
1/2 cup extra virgin olive oil, divided
Salt and pepper
Preparation
In a large non-stick sauté pan over medium-high, heat 1 tablespoon of olive oil.
Pat the salmon fillets dry with a paper towel and season with salt and pepper.
Place the seasoned salmon skin side down in the pan. Lower heat to medium and cook almost entirely on the one side (if the salmon is thick cover the pan with a lid to trap the heat in). When the salmon is almost done on the first side (about 5 minutes) flip it and cook for another minute. Remove the salmon from the pan and set aside on a platter or plate.
In the same pan, heat 1 more tablespoon of the olive oil over medium-high heat. Add half of the onion and cook until it becomes golden brown, about 2 minutes.
Stir in the kale and cook until softened and slightly wilted, about 2 minutes. Fold in lemon segments, lemon zest, remaining raw onion and season with salt, pepper and lemon juice. Cook, stirring, until warmed through, about 30 seconds.
Serve the kale alongside the salmon.