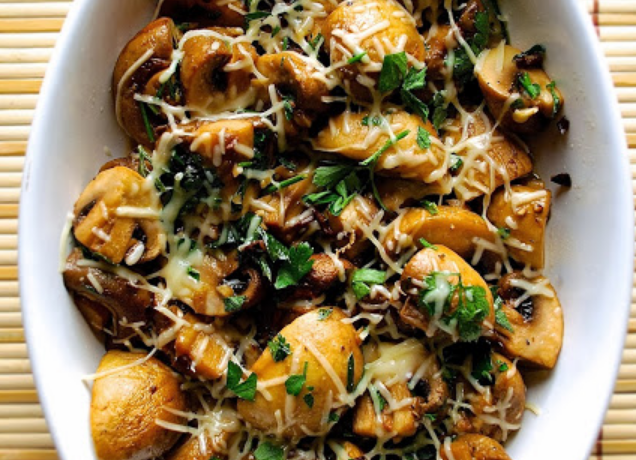 Roasted Mushrooms with garlic and parmesan cheese make the perfect side dish recipe.  I love these over a grilled steak or chicken. It is an easy vegetable idea for Thanksgiving or Christmas dinner that will make anyone a mushroom lover, even kids!
INGREDIENTS
1 pound mushrooms, cleaned, trimmed and large ones cut in half
3 large cloves garlic, minced
2 Tb olive oil
2 Tb chopped olives or capers
2 tsp fresh lemon juice
1/4 C chopped flat leaf Italian parsley
salt and pepper to taste
3 Tb butter
1/4 C fresh parmesan cheese, shredded
INSTRUCTIONS
Preheat oven to 450 degrees and lightly spray a shallow casserole dish with nonstick spray. In your dish, toss together the mushrooms, garlic, oil, olives or capers, lemon juice, parsley, salt and pepper. Dot the butter evenly over the top of the mushrooms and roast for 20 minutes, stirring half way through the cooking process.
Remove from the oven, turn on the broiler and place the oven rack on the highest level. Sprinkle the cheese over the mushrooms, return to the oven on the top rack and broil until the cheese melts and begins to brown, about 3 minutes.