Looking for a low carb appetizer to bring to a party or tailgate? This creamy keto buffalo chicken dip is incredibly easy to make, requiring zero cleanup or any special equipment. You don't need a baking dish. You don't even need an oven. Simply plug in your slow cooker or Instant Pot and don't touch it until the event begins.
Traditional buffalo chicken dip recipes call for unhealthy (and unnecessary) condiments for the sauce, and crackers or tortilla chips for serving. In this keto version, you'll combine one healthy condiment (Frank's Red Hot Sauce) with cheddar cheese for the sauce. For serving, use celery sticks or red and green peppers for a low carb party pleaser. With these simple swaps in ingredients, you're looking at 2 grams of net carbs per serving.
How to Make a Low Carb Appetizer
When following a ketogenic diet (or any diet, for that matter) social gatherings can be stressful. Upon receiving an invitation, the first question that comes to mind is, "What am I going to eat when I get there?"
No matter the event, always offer to bring a dish. That way, you know there is at least one thing you can eat that's healthy, low in carbohydrates and won't derail any progress you made. Bring a balanced appetizer or entree filled with fat, protein and a vegetable (instead of a bottle of wine or champagne) to ensure you get through the evening without snacking on bruschetta, pita bread and tortilla chips.
TIPS FOR MAKING A LOW CARB APPETIZER
Coming up with low carb recipe ideas suitable for a party might seem daunting. Most times, this simply means you're thinking way too hard about it. Plenty of traditional appetizers like buffalo chicken wings, meatballs (sans the bread crumbs) and guacamole are naturally low in carbohydrates. If you collect a list of go-to recipes, social events will be much less stressful. Here are a few tips to help you get started:
Serve dip with vegetables instead of bread, chips or crackers: In this low carb buffalo dip recipe, you'll serve it with celery instead of tortilla chips. The same can be said for guacamole (serve with pepper slices instead of chips), hummus (serve with cucumbers instead of pita) and spinach artichoke dip (serve with keto crackers).
Offer protein-packed dishes with toothpicks: Foods like meatballs and chicken tenders, typically served as entrees, are transformed into a shareable dish when stabbed with toothpicks and plated on a large serving platter.
Rework entrees into bite-sized servings: Plenty of low carb entrees can be divided up into individual portions. Serve your favorite soups as shooters and transform pizza into pizza bites.
Do a few recipes come to mind? Great! Now, if you're reworking a family-favorite dish (like a traditional buffalo chicken dip) you may need to tweak a few ingredients to ensure it's keto-friendly.
Make an Appetizer Keto-Friendly: Tweak the Ingredients
Hopefully the above tips gave you several recipe ideas for your next social gathering. If you have a classic family recipe you'd like to make low carb, there are a few simple adjustments you can make. Buffalo chicken dip, for example, is a classic tailgate recipe (and frankly, not usually the healthiest!) made keto with a few swaps in ingredients.
CHOOSE HIGH-QUALITY DAIRY
Dairy is a common ingredient in many appetizer recipes. In this buffalo chicken dip, you mix cream cheese (you can substitute sour cream if you can't find organic cream cheese) and shredded cheese to prepare the sauce. When grocery shopping, select full-fat, organic and preferably grass-fed dairy products for a keto-friendly dish.
SELECT FATTIER CUTS OF MEAT
Most traditional buffalo chicken dip recipes call for shredded chicken breasts, which is the leanest part of the chicken, or even worse, canned chicken. To make this recipe more keto-friendly, breasts are swapped out for chicken thighs, which are a better source of dietary fat. Plus, chicken thighs are typically a more rich and flavorful cut of meat.
Pro tip: If you don't have time to prepare this recipe for the full cook time (six hours), simply shred a rotisserie chicken and stir with the rest of the ingredients until well combined.
SHOP AROUND FOR QUALITY CONDIMENTS
When purchasing condiments to be used in keto recipes, be sure to triple-check the label. Many condiments typically viewed as unhealthy earn a bad reputation because brands add unnecessary ingredients to their product.
One great example is mayonnaise. Real mayo contains just three ingredients: olive oil, raw egg and acid (usually vinegar or lime juice). Other great examples are blue cheese dressing, ranch salad dressing and red hot buffalo sauce — all of these condiments are viewed as unhealthy, but do exist in a healthy form. Either make a homemade version or shop online on Amazon.com for a trusted brand (Primal Kitchen and Tessemaes are both great options).
In this buffalo chicken dip, you'll add Frank's hot sauce to your recipe. Frank's original hot sauce contains cayenne, water, salt and garlic powder — perfectly suitable for the keto diet.
Enjoy This Buffalo Chicken Dip at Your Next Social Gathering
Now that you know all the tips and tricks to prepare a low carb appetizer, this one is ready to serve.
This creamy, spicy, low carb buffalo chicken dip is sure to please any crowd. And the best part? It's incredibly easy to prepare. All you do is combine all the ingredients in the slow cooker, then "set it and forget it," for a total time of six hours. By the time your party rolls around, you'll have a crowd-pleasing dish (with zero dishes in the sink).
Looking for even more party-friendly recipe ideas? Check out the dinner section of the Perfect Keto recipe library, then follow the above suggestions to transform them into a shareable appetizer.
Cheesy Keto Buffalo Chicken Dip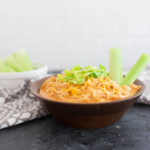 Share the best appetizer dish at any party with this foolproof keto buffalo chicken dip that'll leave your friends and family begging you for the recipe.
Author: 
Prep Time: 

5 minutes

Cook Time: 

25 minutes

Total Time: 

30 minutes

Yield: 

2 cups

Category: 

Sides

Cuisine: 

American
ingredients
8 chicken thighs
1 Small yellow onion
1/2 cup Frank's Buffalo Sauce
1/2 teaspoon salt
1/4 teaspoon pepper
2 teaspoons paprika
1 teaspoon garlic powder
2oz cream cheese
1 cup cheddar cheese
instructions
Add onion, spices, and buffalo sauce to the bottom of a crockpot (or Instant Pot). Stir well. Add chicken thighs, toss to coat. Replace lid and cook on HIGH for 6 hours (25 minutes on the Instant Pot).
At the end of the cook time, remove lid and shred chicken.
Stir in cream cheese and cheddar cheese. Top with additional cheddar cheese if desired.
nutrition
Serving Size: 

1/4 cup

Calories: 

216

Fat: 

17g

Carbohydrates: 

Net Carbs: 2g

Protein: 

16g