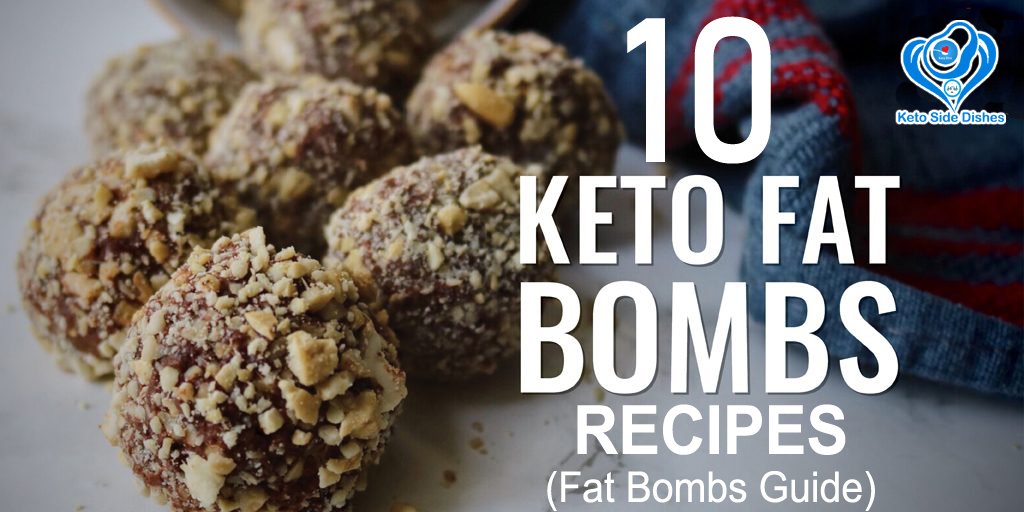 A keto diet consists mostly of fats, but many dieters find it difficult to eat enough fatty foods in a day to put themselves in ketosis. This where keto fat bombs come into play! These bite-sized goodies are loaded down with fat, providing a good portion of the recommended daily amount in just one serving. Want to make some of these for yourself? Here's our guide to keto fat bombs.
What Are Fat Bombs?
Keto fat bombs are treats that are made out of keto-friendly fats such as coconut oil, grass-fed butter, avocado, nuts and seeds. You're starving the body of carbohydrates, so you have to eat enough fat to fuel the body. Keto fat bombs make doing so easy and tasty.
What's In Fat Bombs?
There are all kinds of fat bomb recipes keto dieters use. Most of them include a combination of coconut flakes, vanilla, cacao powder, dark chocolate, cinnamon, peanut butter, almond butter, cocoa butter, cheese, coconut cream, bacon bits and more. While most keto fat bombs are somewhat like desserts, there are some that are savory. There are no rules when it comes to making keto fat bombs! They just have to be high in fat and low in carbs. That's it.
How Can I Make Them?
Making a keto fat bomb is incredibly easy. All you have to do is mix up your ingredients and then portion out the "batter". You can form most keto fat bombs into small balls that are easy to grab but if you want to really up your keto game, use a cute mold to give your fat bombs a unique shape. You can even experiment with layering to make gourmet style keto fat bombs that look good enough to be presented in a fancy bakery.
Pro Tip: Since fat bombs mostly consist of butter and oils, they can melt. This is why it's best to store your keto fat bombs in the fridge.
Keto Fat Bomb Recipes:
Almond Butter + Coconut Fat Bombs
½ cup smooth, unsweetened almond butter, room temp
1 TBSPpowdered stevia sweetener or a few drops of liquid stevia
2 TBSP organic coconut oil, melted
¼ cup pecans, finely chopped
2 TBSP unsweetened shredded coconut
Mix almond butter, stevia, coconut oil, and chopped pecans in a bowl.
Make into balls.
Cover the balls in shredded coconut by rolling in the coconut.
Store in fridge. Enjoy!
Lemon Cheesecake Fat Bombs
1/4 cup organic coconut oil 
1/4 cup unsalted grass-fed butter
4 oz cream cheese
2 TBSP powdered stevia sweetener or a few drops of liquid stevia
1 oz fresh squeezed lemon juice
Mix all ingredients together until really smooth.
Pour into a cookie sheet or add to molds.
Refrigerate until solid.
Enjoy and store in the fridge.
Almond, Hemp + Sesame Fat Bombs
½ cup smooth, unsweetened almond butter, room temp
2 TBSP organic coconut oil, melted
1 TBSP Ghee
2 TBSP powdered stevia sweetener or a few drops of liquid stevia
pinch of Sea Salt
1 TBSP shelled hemp seeds
1/8 cup chopped almonds
1 TBSP black or brown sesame seeds
Mix the almond butter, coconut oil, ghee, salt, hemp seeds and chopped almonds in a bowl until smooth.
Roll into balls.
Cover the balls in the sesame seeds by rolling in them.
Refrigerate until solid.
Enjoy! Store in the refrigerator.
Chocolate Coconut Fat Bombs
1/2 cup Organic Coconut Oil
1/4 cup Unsweetened Cocoa Powder
6 TBSP Shelled Hemp Seeds
2 TBSP Heavy Cream
2 TBSP powdered stevia sweetener or 20 drops of liquid stevia
1/4 cup Unsweetened Shredded Coconut
Mix everything except the shredded coconut until smooth.
Roll into balls.
Roll the balls in the shredded coconut until covered.
Put in the fridge until they harden.
Enjoy. Store in the fridge.
WHITE CHOCOLATE KETO FAT BOMBS
1 cup gently melted cacao butter 
0.75 cup coconut butter 
0.25 cup cashew butter 
2 scoops Steviva SteviaSweet 
2 tbsp Guy Gone Keto MCT Oil 
1 pinch sea salt1
Place all ingredients in a food processor and pulse until well incorporated.2
Spread the mixture into ice cube trays and place in freezer until solid.3
For best results keep refrigerated after solid. Enjoy!
Cacao and Cashew Fat Bomb
1 cup Coconut Oil
1 cup Almond Butter
¼ cup Coconut Flour
½ cup Cacao Powder
1 cup Raw Cashews
In a non-stick medium saucepan over medium heat, heat coconut oil, and almond butter until mixed evenly, stirring often.
Pour the oil mixture from the pan into a bowl and mix in coconut flour and cacao powder.
Place bowl in the freezer for about 15 minutes until mixture cools and is solid.
While the mixture is cooling, place the cashews in a food processor and pulse lightly for a chopped texture.
When the coconut mixture is solidified, take 1/2 tablespoon of the mixture from the bowl, roll into a ball, and dip in the blended cashews. Place fat bombs on a plate. Repeat until you have used all of the mixture.
Refrigerate the fat bombs for 5 minutes.
Enjoy and make sure to store your leftover fat bombs in the refrigerator, otherwise they will melt quickly.
Low Carb Chocolate Coconut Keto Fat Bombs
1 cup coconut butter almond butter may also work, coconut oil will not work!!
1 cup coconut milk full fat, canned Note: do not use low fat from a box!!!
1 teaspoon vanilla extract gluten free
4 Tbsp quality cocoa powder I like this one
1 teaspoon stevia powder extract or to your taste
3-4 drops peppermint essential oil Optional
1 cup coconut shreds
Place a glass bowl over a sauce pan with a few inches of water in it to create a double boiler.
Place all the ingredients except shredded coconut in a double boiler over medium heat.
Mix the ingredients while waiting for them to melt together.
When all the ingredients are well combined remove the bowl from the heat.
Place the bowl in the fridge until it is hard enough to roll into balls, about 30 minutes.
Roll the contents into one inch balls and roll them through the coconut shreds.
Place the balls on a plate and refrigerate for one hour.
Serve and enjoy.
Keep refrigerated when not serving.
CHOCOLATE CHIP COOKIE DOUGH PEANUT BUTTER FAT BOMBS

6 T Butter, softened (I prefer grass-fed, such as KerryGold)
6 oz softened Cream Cheese
3 T Gentle Sweet (or the equivalent of ¼ c sugar)
6 scoops Powdered MCT Oil
1 tsp Vanilla Extract
½ c Peanut Butter (sub almond butter for lower carbs)
¼ c Lily's Chocolate Chips
Combine the butter, cream cheese, sweetener, vanilla extract and peanut butter in a bowl using a hand mixer or kitchen aid. Mix them really well, until completely combined.
Stir in the Lily's Chocolate Chips, then cover and freezer for about 10 minutes.
Remove the bowl from the freezer and use a cookie scoop to scoop cookie dough onto a wax-paper lined dish Place the cookie dough balls back in the freezer for 20-30 minutes, until firm.
When they're completely frozen, remove the fat bombs from the freezer and place in a ziploc bag or container. Store them in the freezer until you're ready to eat them!
Cheesecake Keto Fat Bombs
6 ounces cream cheese
2 – 2.5 ounces fresh or frozen strawberries (or raspberries)
2 ounces salted butter (4 tablespoons)
1 ounce granular swerve sweetener (roughly 2 tablespoons)
1 teaspoon vanilla extract
Let the cream cheese, strawberries, and butter sit at room temperature for about an hour to soften before continuing with the recipe.
Puree the strawberries using a small blender like the Nutribullet. Alternatively, you can mash them by hand, but the texture will be less smooth.
In a bowl, combine pureed strawberries, sweetener, and vanilla, stirring until well-mixed.
In a separate bowl, microwave the cream cheese for 10 seconds until very soft and pliable. This is an optional step, but it makes the cream cheese softer and more easily combined with other ingredients.
Add butter and cream cheese to the bowl with the strawberry mixture. Use an electric hand mixer and beat until well-mixed, ideally without any large cream cheese clumps remaining.
Divide the batter into 18 round silicone molds, smoothing the surface with a spatula. Freeze until solid, about 2 hours, before serving. Store leftovers in the freezer.
Nutty Coconut Fat Bombs
1 1/2 cups walnuts or nut of choice
1/2 cup shredded coconut
1/4 cup coconut butter + 1 tablespoon extra if needed I used homemade toasted coconut butter
2 tablespoons almond butter or nut butter of choice
2 tablespoons chia seeds
2 tablespoons flax meal
2 tablespoons hemp seeds
1 tablespoon maple syrup optional, leave out for keto and Whole30
1 teaspoon cinnamon
1/2 teaspoon vanilla bean powder
1/4 teaspoon kosher salt
2 tablespoons cacao nibs
For the chocolate drizzle
1 oz. bittersweet or unsweetened chocolate chopped
1/2 teaspoon coconut oil
In the bowl of a food processor, combine all of the ingredients except for the cacao nibs. Pulse for about 1-2 minutes, until the mixture starts to break down. It will first become powdery and will stick together, but still be crumbly.
Keep processing until the oils start to release a bit and the mixture sticks together easily – just be careful not to over process or you'll have nut butter. If your mixture seems dry and if you're not using the maple syrup, you may need the extra tablespoon of coconut butter to help it come together. Once the mixture is sticking together well, pulse in the cacao nibs, just to incorporate them.
Use a small cookie scoop (I use this one) or or a tablespoon scoop to divide the mixture into equal pieces. Use your hands to roll into balls and place on a plate.
If desired, make the chocolate drizzle by melting the chocolate and coconut oil together in the microwave for 30 seconds to 1 minute, or until it's completely melted. Drizzle over the balls and place in the fridge or freezer to firm up.
Store in an airtight container zip-top bag in the refrigerator or freezer.