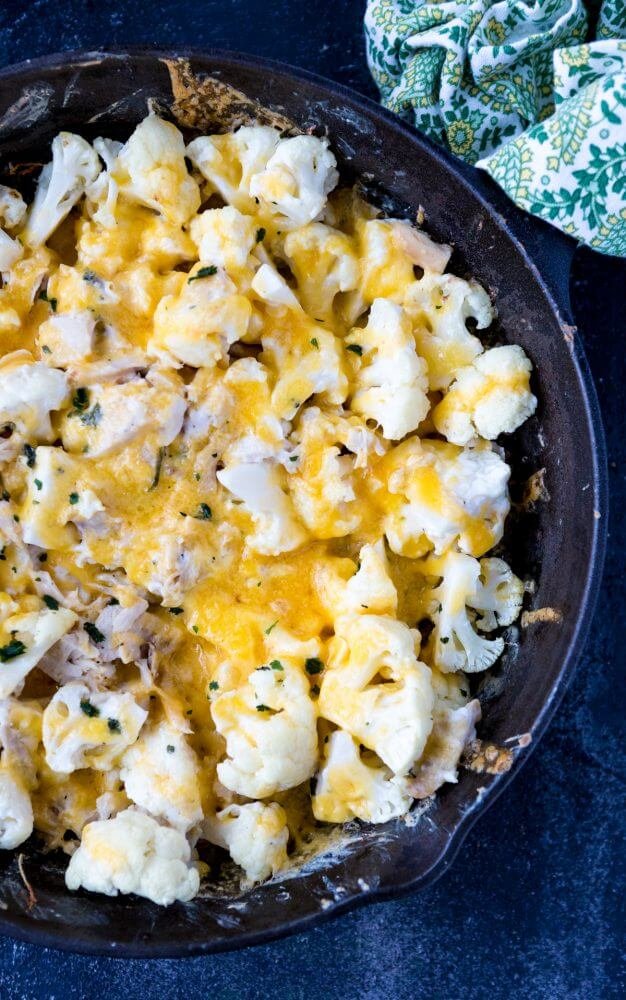 Keto Chicken Cauliflower Mac and Cheese for a complete meal that is tasty and easy to make. The whole family will enjoy this meal.  For the past few weeks, I've been playing around with some KETO recipes. I can't say that my attempts were successful because this past week not one single recipe went up on the site. I failed at almond flour pancakes, instant pot pulled pork, and instant pot sausage and veggies.
My luck has changed with this Keto Chicken Cauliflower Mac and Cheese recipe. It's simple with minimal ingredients, yet it's loaded with cheese to attract the kids. My husband even requested that I make it again this week for dinner.
I told the kids we were having mac and cheese and the name sealed the deal. This recipe is great if you are following a low carb or ketogenic diet. I used Philadelphia full-fat cream cheese and Tillamook's Farmystyle Cut Cheddar Cheese. You can substitute with any brand that you may have on hand.
If you are searching for keto/low carb recipes try out the following:
ENJOY ~ MEAGAN
Keto Chicken Cauliflower Mac and Cheese
INGREDIENTS:
1 cauliflower head, cut into florets
2 cups chopped skinless rotisserie chicken
4 ounces cream cheese, cut into cubes
1/4 teaspoon sea salt
2 cups Tillamook Farmstyle cut medium cheddar cheese, divided
1 teaspoon chopped parsley
DIRECTIONS:
Preheat oven to 400 degrees F.
Add cauliflower, chicken and cream cheese to a cast iron skillet. Cover with foil and bake for 20 minutes.
Remove from oven and stir in salt, 1 1/2 cups cheese and parsley. Cover it with foil and bake for an additional 15 minutes.
Remove from oven and top with remaining 1/2 cup of cheese. Broil for 2 minutes.
All images and text ©
.