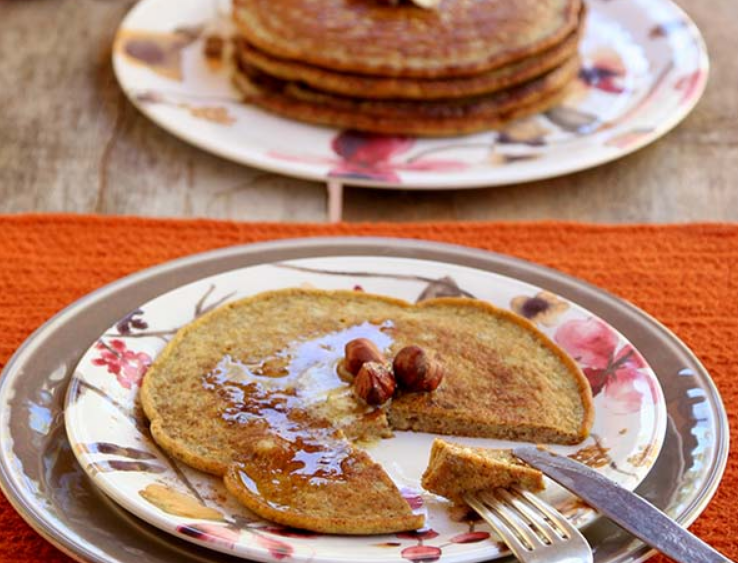 Keto, Low-carb and Gluten Free Pumpkin Pancakes
Ingredients
2 ounces (58 grams) of freshly ground flax seeds
2 ounces (58 grams) of ground hazelnuts or Hazelnut Flour
1 ounce (28 grams) egg white protein
1 teaspoon aluminum free baking powder
1 tablespoon Chai Masala Mix
1 teaspoon vanilla extract
1 cup coconut cream
3 organic eggs
½ cup pumpkin puree
4 or 5 drops of stevia glicerite.
1 tablespoon Swerve (optional)
coconut oil to fry
Instructions
Mix all wet ingredients in a large bowl with a whisk until frothy. (about 30 sec)
In another bowl mix both flours, masala mix, salt, baking powder, stevia and Swerve.
Slowly add dry ingredients to wet as you keep whisking.
Once the batter is ready it should be semi-thick, but still pourable.
If too dry, add ¼ cup of water.
Heat a teaspoon of coconut oil in a small non stick pan and pour one ladle of batter in it.
Cover with a lid and lower flame to low.
Cook for about 2 to 3 minutes per side.
You can use a lid or a plate to help flip the pancake.
Serve immediately sprinkling with more masala mix and garnishing with whole hazelnuts.
You can serve with coconut cream on top.
Nutrition Information
Serving size: 2 pancakes
Calories: 443
Fat: 35 grams
Carbohydrates: 5 grams NET
Fiber: 7 grams
Protein: 21 gr