This Goat Cheese Cauliflower Bake is super creamy and extra delicious with a little bit of bacon. You would never guess it's super easy, healthy and low carb!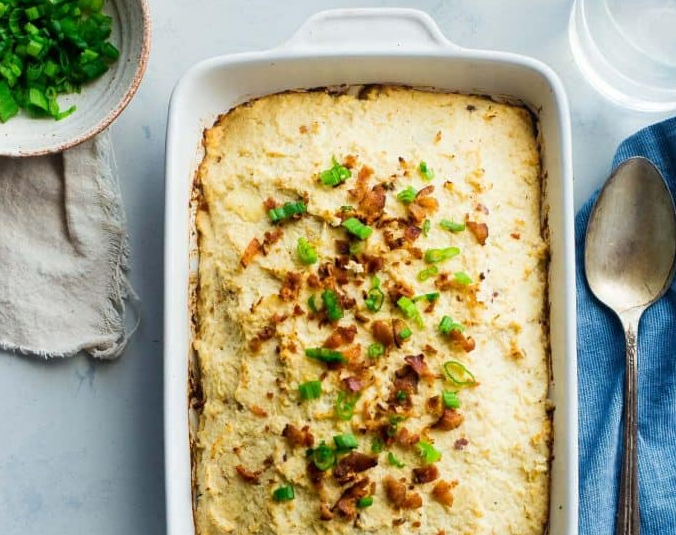 Ingredients
2 large head Cauliflowers, chopped (8 cups chopped)
4 strips Hickory Smoked Bacon
1 cup Onion, diced
4 teaspoons Garlic, minced
10 ounces Goat Cheese, divided
1/4 cup Reduced Fat Cream Cheese, softened
Salt and Pepper, to taste
Green Onion, sliced, for garnish
Directions
Heat your oven to 400°F and spray a small casserole dish with cooking spray.
Place the chopped cauliflower into a large bowl and microwave for 8 minutes. Stir and microwave for an additional 8 minutes, until fork tender.
While the cauliflower cooks, heat a small pan on medium heat and cook the bacon until golden brown, about 2-3 minutes per side. Once cooked, blot of the excess fat with a paper towel, cut into small pieces and set aside. Make sure to reserve the bacon fat in the pan.
Heat the reserved bacon fat on medium/high heat and cook the onion and garlic until golden brown and soft, just 2-3 minutes.
Transfer the cooked cauliflower into a large food processor and add in 8 oz of the goat cheese, the cream cheese and the cooked onions. Process until well mixed and almost totally smooth, keeping a few chunks in for texture.
Transfer the cauliflower mixture to a medium bowl and stir in the sliced bacon and mix until evenly distributed. Season to taste with salt and pepper.
Fill the prepared casserole dish with the cauliflower and crumble the remaining goat cheese on top.
Bake until the top just begins to brown, about 20 minutes. Garnish with green onion and serve.